Celebrate Susan's Success! 
Susan joined our program in 2020 after being out of school for 20 years. She dreams of having a career helping others and getting her degree in human services. To reach this goal, she first needed to have a high school diploma. She knew it wouldn't be easy after being out of school for so long, but she is no stranger to hard work.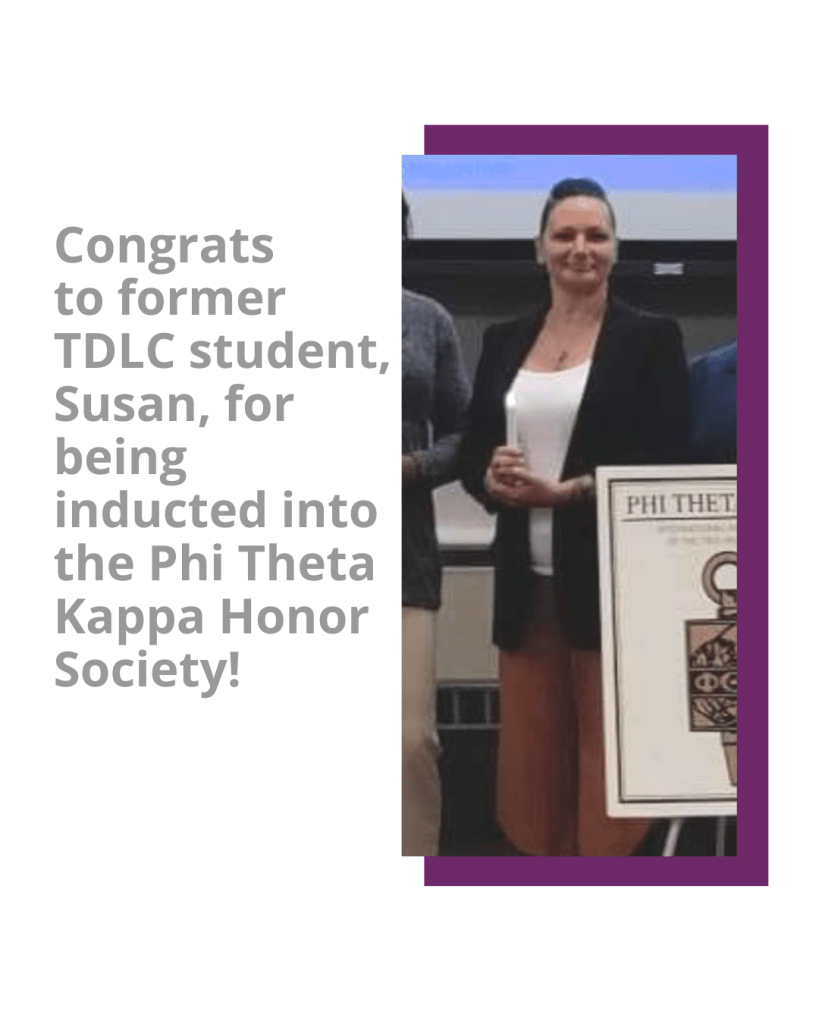 As a teenager, Susan completed 8th grade and dropped out her freshman year. She started raising her family at 18 years old and worked hard to support her children as a single mom. Twenty years later, with her children older and requiring less of her time, it was time to prioritize her education and get her certificate. 
It took her a little while to get back into the groove of learning again, but she is a determined person. Once Susan makes up her mind to do something, nothing is going to stop her. She kept coming back.
As many of our students would agree, the math test was the biggest challenge. Still, Susan stuck with it. With one-on-one tutoring and many practice tests, Susan passed the tests and achieved her certificate in February 2022. 
Susan immediately started college classes in Psychology and Sociology. We knew she was going to achieve great things! In Fall 2022, Susan was inducted into the Phi Theta Kappa Honor Society.
Even though she graduated from the program, Susan still keeps in touch with our tutors. Professor Ron proofreads her college papers. Sometimes, Susan comes back to Thomas Dunn Learning Center to read in the library or for a quiet place to study. There are good memories in the building. 
Her family and friends are extremely proud of her because they know how much she wanted to get her certificate and get into college. Our tutors are so proud of her because each day, they saw her resiliency. Her perseverance and determination kept her coming back. 
The takeaway from this story is a phrase Susan says to herself and the advice she gives to other students who are struggling, "just keep showing up!"
Join us in celebrating Susan's success by making a tax exempt donation to Thomas Dunn Learning Center. Your donation will help us continue to support students like Susan on their path of achieving their goals. Learn about our Giving Tuesday efforts here.