Ready to make a difference? Become a TDLC volunteer! Your time and effort can have a profound impact on the lives of those we serve. Whether you can commit to one shift or many, your contribution matters. Sign up today, and be a part of something bigger than yourself.
TDLC also accepts volunteers who are completing mandatory community service hours, either through schools or through the courts. If you are interested in volunteering, please fill out the form below. 
Sign Up For A Volunteer Shift
We need your help! Sign up for a volunteer shift and join us in our mission to build a more sustainable region through education.
What Does A Facilities Assistant Do?
The Facilities Assistant plays a pivotal role in the care and maintenance of TDLC's grounds and facilities. In this position, you will work closely with the operations manager.
Your position will involve a variety of tasks, including internal organizational projects, support for program and event setup and breakdown, light maintenance, light cleaning, and grounds maintenance. Note: This position requires ability to lift 30 pounds and perform physical tasks outside.
What Does A Program Assistant Do?
The program assistant plays a key part in ensuring the smooth operation of our programs. In this vital role, you will work closely with our leadership staff and community instructors.
Your responsibilities will include working front desk reception to help check in students, offering guidance on our programs/how to participate, simple data entry tasks, and contributing to the success of our events & classes. You are invited to stay for the class (for free) that you are supporting, once all students are signed in!
What to expect:
After you sign up for your shift, you will receive an email from Jessica, the operations manager with more information.

Training and on-boarding will be completed on your first shift.

All shifts are completed at our primary facility: 3113 Gasconade Street

If you need to cancel, you can send us an email at tdlc@tdunn.org.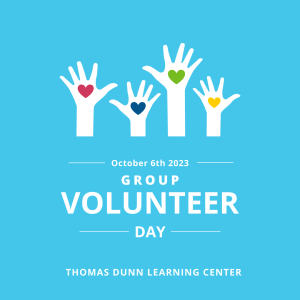 Our first group volunteer day of the fall semester is October 6th. 
The Volunteer Of The Month program celebrates outstanding volunteers like you, recognizing your commitment, passion, and contributions. By becoming a TDLC volunteer, you'll not only have the chance to shine and be honored but also inspire others to follow in your footsteps.